APPLE Mac Pro A1991 Logic Board Repair Service
No matter it is a liquid spilled issue or any other logic board issues, we can resolve all of them for you. We have over 99% success rate on our logic board repairs.
How To Find Your Mac Model
The model number is printed on the bottom case.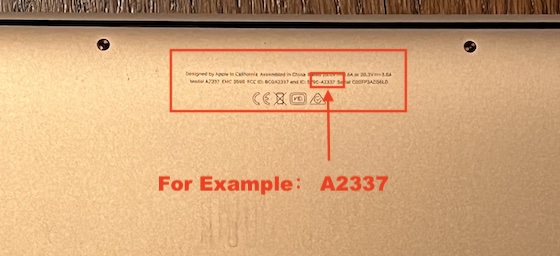 SHIPPING INSTRUCTION & REPAIR PROCEDURE
Once you complete you payment, you will see the detail shipping and service form information on your sales receipt within your L2Order.com account. Please follow the instruction to prepare your computer's service form, your computer will be assigned a service number. With that service number, we can identify your computer and you can keep track all your repair status.
You will need to ship your laptop to us for repair first and we will cover the return shipping (except international orders). International customers need to pay for the return shipping cost. We offer free return shipping to US customers only.

We prefer the entire computer instead of the logic board only, because we can do a fully test on your machine after your logic board repair. You don't need to include your ac power adapter or battery in the shipping package (unless you have charging or battery issues), we have our universal one for testing.

You also need to remove your hard drive if you do care about your data security unless you have backed it up. We will take no responsibilities on any data loss during transit or repair. We will insure your laptop(s) up to $500/ea when preparing your shipment. Should you need more insurance, please pay for the extra fee at $1 per $100 insured amount.

The repair service takes about 5 to 7 business days. However, some special issues may take a little bit longer than expected. If we cannot get your laptop fixed, you can either choose to receive full refund plus our free return shipping, or you can pay extra for the replacement of your entire logic board. We will let you know the extra before logic board replacement.
REPAIR SERVICE COVERAGE
This repair service covers the repair of your laptop logic board only. It includes the component chipsets replacement within the logic board. It doesn't cover the following:
Dead Battery and AC Power Adapter
Defective CPU and Memory
Defective Hard Drive and CD/DVD ROM
Cracked LCD/LED Screen
Defective LCD/LED Cable
Defective Keyboard and Touchpad
Any other defective parts beyond the logic board
RETURN POLICY & WARRANTY

The repair warranty will be 90 days from the date you receive your return laptop. If it's out of 90 days but within 180 days, you can still get your machine repaired at 50% off. If the repair is out of 180 days, you have to pay full price to get it fixed again.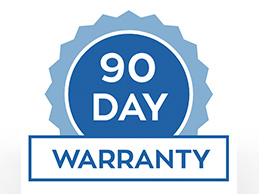 Should you have any further questions, feel free to contact us before placing your order. Thanks for your understanding.